Entertainment, Hobbies, and Crafting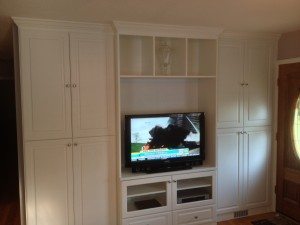 Living in such a high-tech world has us running out of room for all our of entertainment toys. Not everyone has the same size television, and not everyone has the same entertainment system needs. Just as we are creating spaces for our entertainment, we are also looking for space to work on our hobbies and crafts. We offer custom built entertainment centers, wall beds and craft spaces to fit your room, your equipment, and your lifestyle.
The Home Theater Room of your dreams starts with the perfect cabinetry for your TV and electronics. The Craft Center of your dreams begins with the right workspace to meet your crafting and storage needs. We will design and build the perfect system for you, making all your organizing dreams come true. Let Dream Spaces take your space saving ideas to create a custom entertainment center or craft center. Contact us today!