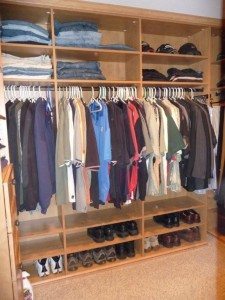 Our bedroom closets are usually the most neglected area of the home. The clutter can stress us out, make us late, and put us in a bad mood. But a simple custom closet organizer system can clean up that mess and allow you to move comfortably and enjoy your private space again.
At Dream Spaces, we specialize in bedroom closet organizers and closet space solutions. We will assist you in shelving all your clothes, shoes, purses, ties and so on to free up space and make your life easier. Our closet storage design team will come up with the best design possible to meet your specific needs then show it to you in 3D, utilizing our software which allows us to work together to design the right plan for you. We will then build and install the closet system. We offer many color options, hardware designs, and finishes for you to choose from. Our systems can either be floor based, giving you a built-in furniture type look or hanging, providing you the pure functionality you need.
Organize your life with our custom closet organizers and closet shelving systems and see why we are the Charlotte and Western North Carolina areas leading closet organizer contractor. Contact us for a FREE in-home consultation today.